Exploring the 'Why?' Bikeaholic does have a purpose!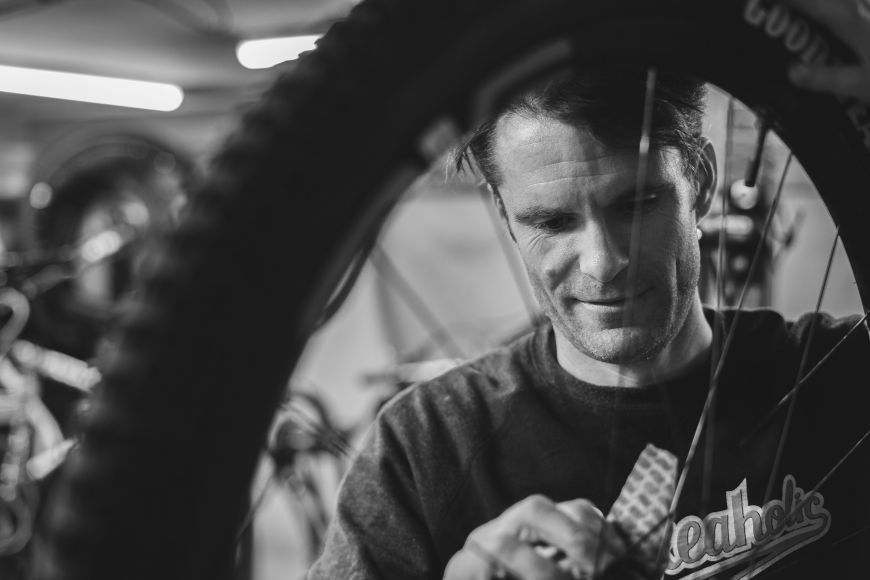 Bikeaholic. Striving for our aim to be the "Experts in MTB, spreading the stoke and turning customers into Bikeaholics!"
Stuck in my pandemic bubble I wanted to think about where Bikeaholic has come from and where it is going.
Bikeaholic was founded on the fact that Justin and Mat felt a real need for a shift away from the department store model and to provide a dedicated bike shop, owned and operated by riders, for riders. We try to impart knowledgeable advice (and some strong opinions) by a group of MTB enthusiasts from within that 'small store' feel. A highly skilled service department is of our highest priority. Now, 6 years in and I would hope you agree, the store has definitely stayed true to these roots.
This team is a group of individuals each employed for a different skill set.
A team of 7 now, all passionate riders with different skills and all employed to complement each other. Whether it's the mechanics' amazing attention to detail, Mat's ability to be a bike nerd and opinionated about all things bike. Justin's skills to make sure the bills get paid and look at bigger picture things. Or the retail boys ensuring our customers are made to feel like you get the best possible customer experience, and now, a manager, to make sure we stay on track.
Some of us can wheelie, some can manual, some can do big jumps and some just froth about being out on the trails - we all agree riding enhances our lives.
The bigger team for 2019 made us consider what makes a Bikeaholic employee and below are the values we instill, and expect, from each of the individuals you will find in our team.
Dedication - Commit, put in the effort, enjoy the results.
Passionate - We are Bikeaholics, passion drives us and it shows.
Ownership - Own your work, your mistakes and your achievements.
Respect - Yourself, your team, our customers, the trails.
Culture - Create rider culture, participate, share and encourage.
The team is good and is bolstered by our systems and embracing technology.
Early on in Bikeaholic we could see that in order to be better we needed to use technology and systems. What this enables us to do is be better at speaking to people and give each individual the time they need with us. Believe it or not, there is method in our madness!
Did you know you can book a time and date for our workshop? Even a specific mechanic if you have a favourite! Put simply bikes should be out on the trail as much as possible, we know you hate being without a bike and its the same for us. Obviously sometimes things don't go to plan, especially with the myriad of different parts out there now! However, we pride ourselves on communicating any changes fast so you know exactly what's going on.
Our Customers
Having such a dedicated local scene in Queenstown makes our job fairly easy. We like to think that whether you're a die-hard biker, a person wanting to go ride the latest QMTBC trail or just riding the epic 'Queenstown Trails Trust' trails with your family, we will welcome you to come chat to us. Colin, store manager, proudly states "I guarantee no other bike shop cares as much about your bike or your riding as us".
You can shop on price, which we try to be competitive on, but the value our knowledgeable staff offer means so much more to our customers.
Having a beer with customers is always great, sliding a cold one over the counter to just have a yarn with somebody as we begin closing down for the day is definitely a highlight to all of the staffs' day.
The Product
As a local independent bike shop, we get to choose the products we want to stock, so every product in our shop has been debated, discussed and earned its spot so the team can proudly sell it with confidence and passion. We are riders and we hate things not doing their job properly, so we simply try to sell the best.
Last year the store was closed for a day while the whole team flew to Auckland to view, discuss and have an opinion on which bikes and models we wanted to stock and support. It means a lot to have everyone on the same page and passing our knowledge on to our customers through great product selection.
Having the support of a big bike supplier helps - we can give you big retailer prices while you get the support and care that only a real local bike shop can truly offer.
Shout Outs
Queenstown Mountain Bike Club putting on races, fundraisers and building epic new trails just makes Queenstown a real mecca for all things mountain bike.
The Future
We know in Bikeaholic we can always be better, smoother, faster just like with our riding. Improvements are always being discussed to make us better at supporting our customers and giving us a great work-life balance. The bike industry is constantly changing and so are we to ensure we are always ahead of the curve.
100% Service, 100% MTB, 100% Bikeaholic.
Stay Happy. Stay Healthy, and keep riding.
Thanks to all our customers over these last six years, you have been great, and we wouldn't be here without you.
---