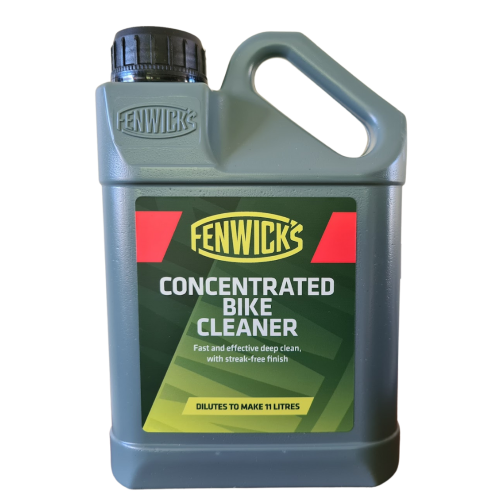 Fenwicks Bike Cleaner 1L Concentrate
Regular price
$39.99
/
Tax included.
---
In 1996 we created the first ever bike cleaning concentrate called "Hog Wash". It was way ahead of its time and did not really gain the following it deserved, as "ready to use" solutions were more popular. Concentrates are now common place and marketed for all types of liquid products, so the acceptance to embrace this concept is now already there. Over the years our cleaners have been subtly improved, allowing us to use the same base materials to create the best, safest and most economical products that we trust in and so can you.
1 Litre of concentrate makes 11 litres of bike wash
Concentrated Bike Cleaner is a complex mixture of surfactants and sequestrants. It may be diluted using 10 parts water to create a "ready to use" Bike Cleaner or used neat in chain baths.  Concentrated Bike Cleaner works by attracting dirt, surrounding it and making it easy to rinse away. Fenwick's Concentrated Bike Cleaner does not use solvents or acids (citrus) to be effective, resulting in a safe product to use.
This simple concept works across all types of finishes, be it, matt, carbon or gloss, leaving a clean, contaminate free surface. Concentrated Bike Cleaner is biodegradable and safe to use on anodising, carbon, plastics, rubber and painted surfaces.
Fast, effective deep clean, with streak-free finish. Dilutes to make 11 litres of "ready to use" bike cleaner. Strong enough to be used as a degreaser
FOR USE AS A BIKE CLEANER:
Using the fill level mark on a Fenwick's spray bottle, dilute 1 part Concentrated Bike Cleaner to 10 parts water.
Spray bike thoroughly with the diluted mixture
Allow to soak in for a couple of minutes.
Agitate dirt with brush or sponge.
Rinse thoroughly with clean water.
DIRECTIONS FOR USE AS A DEGREASER:
Apply to drivetrain or parts that need degreasing – can be used in any chain bath and allow to soak in for a couple of minutes
Agitate with brush or sponge
Rinse thoroughly with clean water
Handy hint: As a water soluble degreaser Fenwick's FOAMING CHAIN CLEANER can be used on delicate parts.