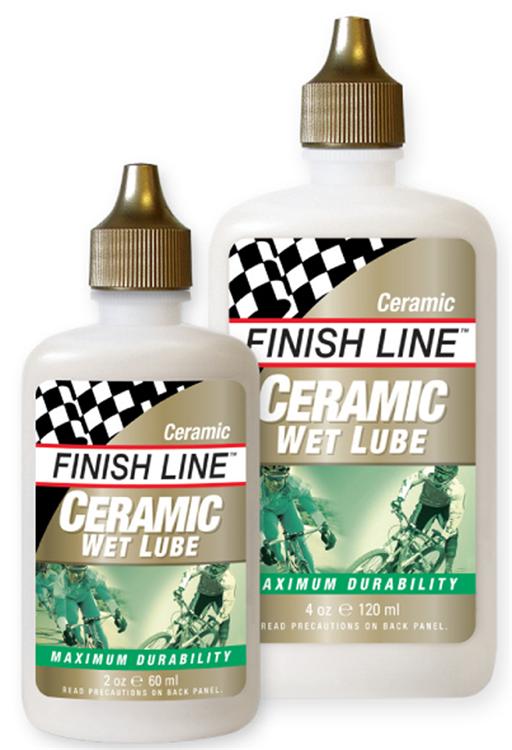 Finishline Ceramic Wet Lube
Regular price
$16.00
/
Tax included.
---
FINISHLINE CERAMIC WET LUBE
Ceramic WET™ is Finish Line's most advanced and most effective racing lubricant. This wet-style full synthetic lubricant is enhanced with a nano-sized platelets of boron nitride and micron particles of fluoropolymer. As Ceramic WET builds it's ceramic coating on the frictional surfaces of a drivetrain, cyclists will feel the smoothness and appreciate the added quietness. Ceramic WET ensures maximum drivetrain efficiency
Ceramic WET's extreme durability, amazing smoothness and ultimate quietness ensures maximum drivetrain effciency! Although Ceramic WET is often used as a "race-day" lubricant, with proper attention to chain cleanliness, it can be used as an every-day lubricant as well.
Ceramic WET is a full water-proof lubricant, so it can be used in all disciplines: Mountain bike, cyclocross, road and track racing.
Avaialble in;
2oz/60m/
4oz/120ml
32oz/1L jug
Application tips: Apply generously to clean chain (Degrease, rinse with water and then dry.) Work in, wipe excess. Reapply after 1st ride to complete ceramic coating process. NOTE: The white ceramic particles may turn grey or black over time. This discoloration is normal and will not compromise performance. After several applications this will lessen